Watching the game opener for NJ Nets at Prudential Center.. well on th YES network allowed me to see that Newark is on the move to have a positive reputation. Newark will be hosting the 2011 NBA Draft. This is big news for the city I live and grew up in. I'm just hoping they don't wipe out all the poor people because this city is going to become an attraction city in years to come.
Overall, I love my city. A lot of stuff I hate too, but it made me who I am. I feel like I am a strong person because of pushing through the struggles and refusing to becoming a statistic. From the time of the Newark riots in 1967 to now a lot of progress has been made. I just think we need to have our good stores back like Macy's and Bamberger's. My mom said those were the days...
Newark also has a lot of talent. A lot of artistic people in this city. Hopefully they'll get the exposure they deserve.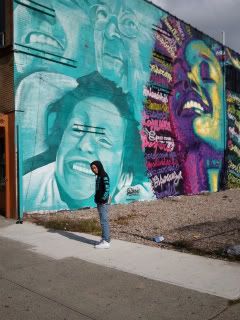 Peace. I <3 Newark.
Stop Violence
Stop Stereo Type Profiling